European Wellness Biomedical Group
European Wellness Biomedical Group (EW Group) is an international multi-award-winning European group renowned for its pioneering developments in precursor stem cell therapeutics, immunomodulation, biological and synthetic peptides, nutraceuticals, cosmeceuticals and biological regenerative medicine. Headed by esteemed scientist and stem cell research pioneer Prof. Dato' Sri Dr. Mike Chan, the Group owns over 20 international patents and has contributed over 30+ books and over 70+ publications in science and medicine in the US and UK. The Group was founded in the early 90's through the culmination of comprehensive cell therapeutics research efforts that span across multiple nations including Switzerland, Germany, Russia, UK and Austria. Today, the Group's portfolio comprises multinational business divisions that collectively operate in the emerging fields of biological regenerative medicine. These divisions include research and development, bio-manufacturing, training and education, anti-aging centers, private labelling for established companies worldwide, and product distribution to consumers via licensed practitioners across 80 countries. The Group also owns a growing network of over 30+ internationally-accredited hospitals, medical centres specialising in biological and regenerative medicine, and luxury Youth Restoration and Wellness Centres globally. It has established itself as one of the top biomedical groups in the world, and is currently headquartered in Germany, Greece, UK, Switzerland and Kota Kinabalu, Malaysia (Asia Pacific), with supporting centres and research facilities located strategically around the world.
EW Group owns the EUROPEAN WELLNESS™ brand, which is a holistic wellness and rejuvenation concept based on the scientifically-backed knowledge and effectiveness of Swiss and German biological medicine and bio-molecular therapy. Its premium accreditation, the EUROPEAN WELLNESS CENTRE (EWC), is applied to licensed centres and their practitioners who meet the standards necessary to integrate European Wellness's advanced treatment protocols and methodology. These centres – currently located in multiple sites worldwide including Greece (Santorini, Athens), Switzerland (Lugano), Germany, Thailand, Bangladesh, China, Malaysia, and the Philippines, to name a few – offer patients holistic treatment for anti-aging, age reversal, aesthetics, and whole-life disease and health management with an emphasis on delivering premium services in a secure, ultra-exclusive, and private setting. EWC's team of practitioners and service providers have earned a reputation as skilled, conscious and respectful professionals, well-suited to upholding their position as ambassadors of a paradigm approach to wellness and improved lifestyle.
About European Wellness Vietnam
Located in the heart of District 1, Ho Chi Minh City, European Wellness Hospital (EWH) is luxury healthcare center that delivers premium regenerative solutions through integrating cellular therapies, biomedical diagnostic and therapeutic devices with advanced health programs.Luxury, comfort, and well-being meet in an exclusive healthcare center - European Wellness is the ultimate wellness destination that features the beautiful city view, lavish and stylish accommodations, immaculate service, effective medical treatments, and precise, state-of-the-art diagnostic and treatment tools. Everything is designed to make you feel as comfortable as your own home.With more than 20 years of experience in cell therapy for Vietnamese people, our medical board of highly specialized doctors hand-holds you on your holistic pathway to wellness for mind and body. Our aim is to encourage you to be more proactive in managing your own health and wellbeing on a daily basis. reverses aging, and regaining youthfulness, proactively control long-term disease and regenerate the entire quality of life.
Our mission
Expertise: As an European top-notch healthcare center, European Wellness is committed to operating with the highest level of expertise and skills. The effectiveness of our treatment is the most important factor.
Worthiness:We aim to deliver an experience worth every moment to our customers at European Wellness. Each customer coming to European Wellness will not only be able to overcome a particular health problem but will also improve their overall physical and mental well-being.
Holistic: We believe that health is not only the absence of diseases but empowering your quality of life while extending longevity. We also believe in redefining aging and the delivery of healthcare as an integrated, holistic approach. Our ambition is to become the prime destination clinics, provide you with everything you need for your health transformation, all under one roof.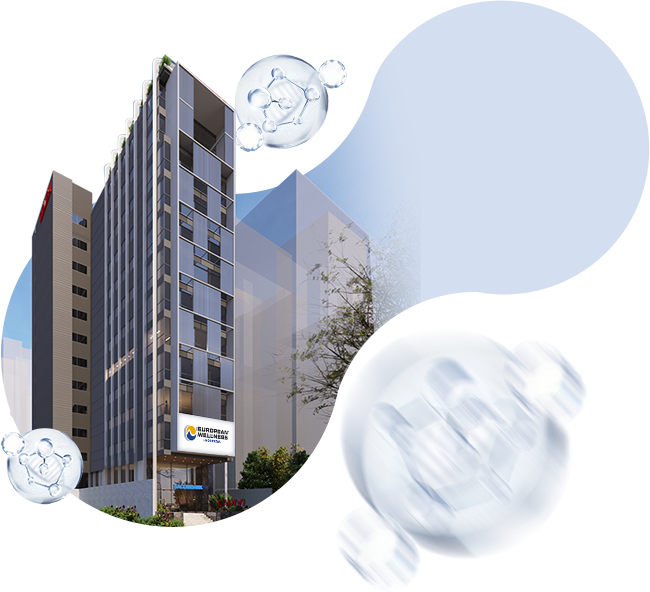 Vision
Applying the best regenerative therapy solutions in the world, European Wellness remains loyal to the goal of leading in the field of comprehensive health care from cells, reversing aging, enhance beauty and prevent diseases. We focus on designing high-quality health services and programs for our clients, developing internal our staffs, and collaborating with partners from the centers in many other countries.

The future orientation of European Wellness is to become a leading regenerative biomedical center in Vietnam, where customers can experience the complete process of stem cell therapy for physical and wellness improvement.
6 GOLDEN RULES FOR EUROPEAN WELLNESS' SUCCESS