Stem cell skin tightening – Multi-layered impact, comprehensive rejuvenation.
According to research, from age 25, the skin will begin to "degrade" and shed collagen. At that time, the facial skin appears dry and loses elasticity, and melasma or wrinkles also appear more clearly. European Wellness Vietnam has successfully applied European stem cell skin tightening therapy to rejuvenation. This is considered the golden solution in work to help remove wrinkles, fine lines, and rough skin around the face and eyes. At the same time, it restores stress and resilience of the skin, bringing a youthful appearance to women entering middle age.
What is Cellular Lifting?
Youthful skin. Currently, on the market, there are many beauty methods to supplement Collagen and Elastin for the body, such as direct injection into the skin or using functional foods, slowing down the aging process, and keeping the body and skin healthy. However, these methods cannot solve the rapid aging process with age.
With the development of regenerative medicine, we can safely look to the technology of skin rejuvenation with cell tightening therapy. This is a non-surgical skin tightening method, mainly using the ability to regenerate and differentiate stem cells in anti-aging beauty salons. When entering the body, stem cells will help increase collagen and elastin enormously, helping to rejuvenate and solve aging problems comprehensively.
Outstanding advantages of the method of cell skin tightening
With the benefit of differentiation into functional cells and continuous proliferation, adult stem cells enhance tissue healing, leading to the growth of new blood vessels and ultimately creating youthful, glowing skin. Than. A stem cell facelift will help restore skin's elasticity and smoothness, making facial skin look younger and more vibrant.
Cell therapy is safe and highly compatible with most clients. Contrary to non-certified invasive cosmetic treatments, clients who use stem cell therapy for facelifts claim that their skin becomes younger and more radiant. This treatment can correct wrinkles, help plump up sunken cheeks, and eliminate puffiness at the same time. The cell skin tightening method also helps smooth the skin, lift facial muscles, and increase collagen and elastin production to overcome other shortcomings of the skin intensively.
Who is suitable for a cellulite lift?
Stem cell skin tightening is an innovative treatment for people with the following characteristics:
There is a symbol of premature facial aging.
Women about to enter middle age, perimenopause, and menopause begin to appear wrinkled, wrinkled, and wrinkled skin at the corners of the eyes.
Owning upside-down skin
Skin is adversely affected by external factors. It improves fine lines, makes wrinkles more visible
The desire to rejuvenate the skin without having to penetrate, cutlery much I don't want to make up for a lot of vacation time.
Desire to perform safe, natural, and long-term effective therapy
A cell lift does not cause open wounds and requires complicated aftercare care like invasive surgery.
However, for the treatment to be most effective and avoid unwanted side effects, customers should note the following points:
Things to know when tightening skin cells
A cell lift does not cause open wounds and requires complicated aftercare care like invasive surgery.
Drink lots of water and eat lots of vegetables
Organic exposure to sunlight, dust
Do not massage; strong impact on the facial skin at first.
Live in moderation, avoid staying up late, and overwork.
Can combine excellent screens with those with sensitive skin
Enhance the effect of skin rejuvenation by adding plenty of water and foods with antioxidants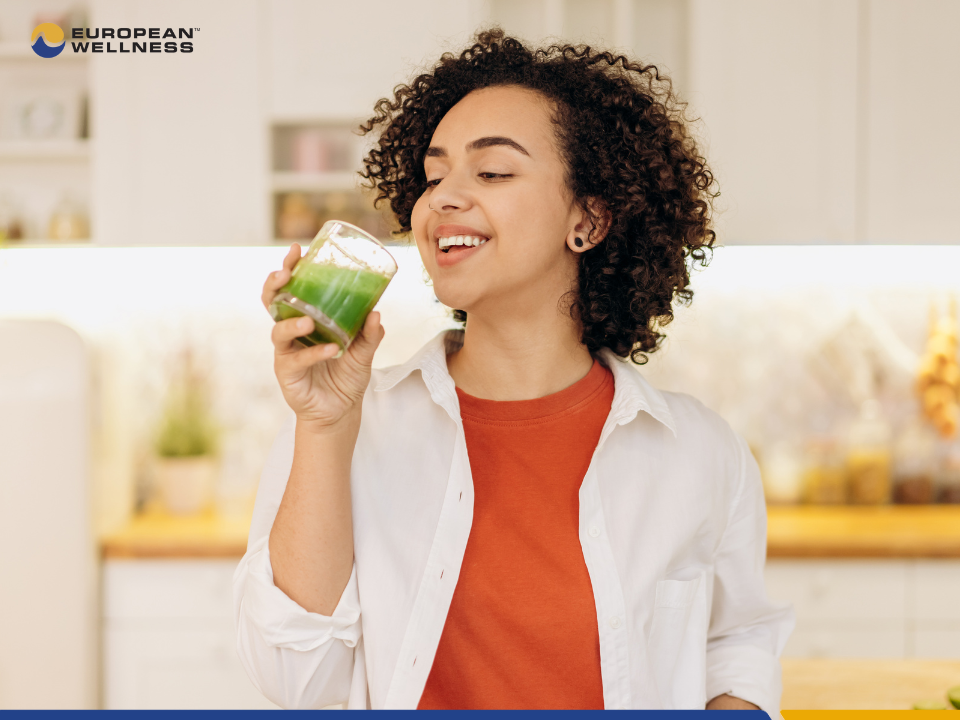 Enhance the effect of skin rejuvenation by adding plenty of water and foods with antioxidants
Experience the process, the difference of cellulite lifting method at European Wellness
Intending to help Vietnamese people Touch the Dream of owning beauty and comprehensive health, the team of doctors at European Wellness Vietnam always aims for natural, minimally invasive, but effective beauty methods. We will help you proactively anticipate and stop the aging process. With its excellent regenerative potential, a stem cell lift at European Wellness is no longer a go-to for symptom resolution. With this feature, no other skin rejuvenation method can be performed.
European Wellness has set its footprint in 25 countries worldwide with high-end healthcare center models, and Vietnam is the 26th country. The European Wellness 4-step skin tightening regimen is out. Life is the result of the tireless efforts and research of a team of doctors around the world, based on the achievements of regenerative medicine:
Step 1: Diagnosis
Step 2: Detoxification
Step 3: Repair
Step 4: Rejuvenate
European Wellness is proud to own a GMP WHO standard laboratory, which meets the criteria including facilities, working environment, human resources, and inspection of the collection, treatment, and cultivation process. , storage, preservation, and application of stem cell technology. Technology transferred from Europe, including state-of-the-art machinery to the treatment process, meets double safety standards and is committed to the best results.
The actual effect of the method of cell skin tightening
The following customers who experience cellulite treatment all have smoother and firmer skin:
Fine lines and wrinkles on the face are improved by up to 99%
Stimulates blood circulation under the skin to make the skin rosy, healthy, and full of vitality.
Results last for 2-3 years, depending on the body of each person
Unknown face up Heal skin damage from within
Repels and prevents long-term chemistry
Shrink pores, reduce wrinkles, and effectively tighten skin
With advanced technology from Europe, the exclusive stem cell therapy at European Wellness has opened a new era in beauty cosmetology. Bringing the quintessence of medicine from Europe's leading corporation to Vietnam, European Wellness promises to become a sure fulcrum in protecting you and your family against the rigors of time. Comprehensive care – proactively for the people.
If you have any questions about the treatment application, please contact the hotline at 028 6292 8888 to register for a face-to-face consultation with a team of experts in the healthcare system from Europe.
To learn about the success stories that the European Welless brand brings to customers in Vietnam, please refer to the Link