Do not miss it! Professor Dr. Mike Chan's exclusive book signing event at the 2022 World Congress of Anti-Aging Medicine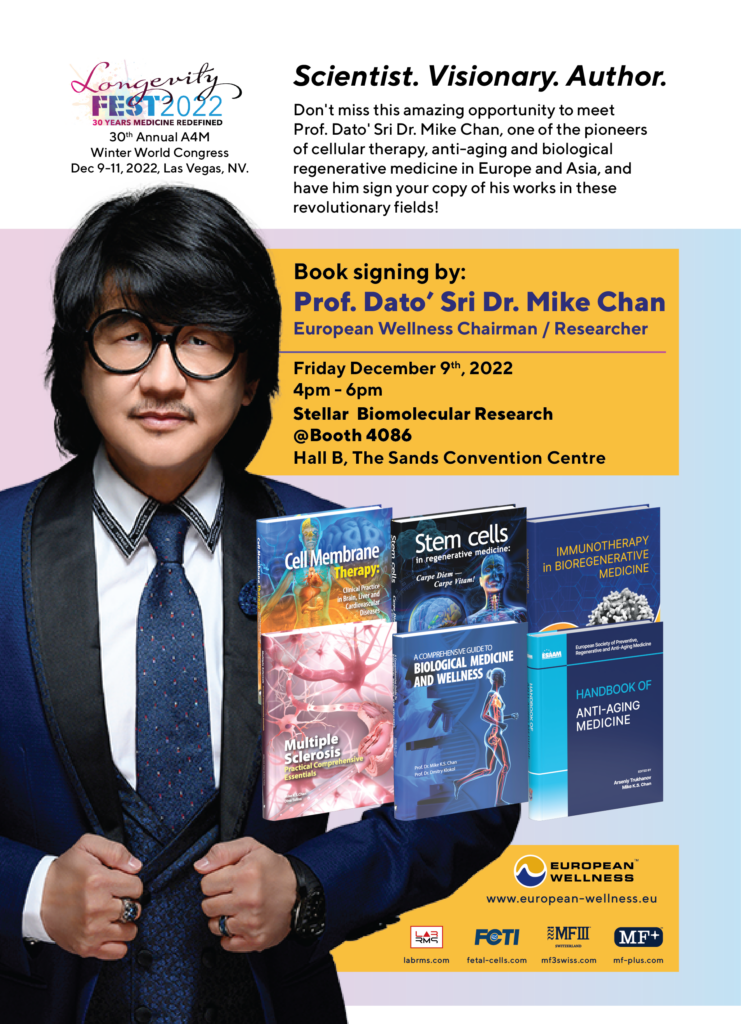 Do not miss it! Professor Dr. Mike Chan's exclusive book signing event at the 2022 World Congress of Anti-Aging Medicine
The event took place on December 6, 2022
At this year's World Congress of Anti-Aging Medicine, known as the 2022 Longevity Festival, don't miss the chance to meet in person Professor Dr. Mike Chan, one of the first in the cell medicine department. , anti-aging and bio-regenerative medicine at an exclusive book signing!
Date: December 9, 2022
Time: 4 pm – 6 pm
Venue: The Sands Convention Center, Hall B, Las Vegas, NV, USA
This year's annual World Congress of Anti-Aging Medicine will be special as the world's leading experts gather to celebrate 30 years of medical education innovation under A4M (American Academy of Anti-Aging Medicine).
Join us now in Hall B at the Sands Convention Center, Las Vegas, December 9-11; this is an excellent opportunity to learn and connect with the greatest minds in the industry. Field of anti-aging, longevity, and regenerative medicine!
See you at the autograph event!
✉ please contact us immediately via hotline (028) 6292 8888  888 if you have more questions about the meeting, and don't forget to follow us Here for more exciting events!
THÔNG TIN LIÊN HỆ
Hệ thống chăm sóc sức khỏe toàn diện đến từ châu Âu
Địa chỉ: 70-72 Nam Kỳ Khởi Nghĩa, P. Nguyễn Thái Bình, Q. 1, Tp.HCM